When I was little, one of my favourite books was a story called
Jonpanda
. In it, a girl visits a fairground with her mum and wins a toy panda. They soon start talking to each other and develop a friendship.
My favourite part of the story is after Jonpanda and Mamie get stuck in the rain and develop a cold, they sit by the fire and share some porridge. This cosy warm image is actually on the front of the book, perhaps a testament to its hypnotising power. You see, whenever I read this book, I always wanted to have some porridge.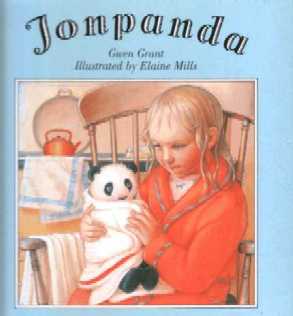 And always, I would drag my parents to the supermarket the next day, to buy some porridge, and wait excitedly as it was prepared (a process which then seemed so long and complicated). Then I would sit down with this inviting bowl and take about three bites before deciding that, actually, I don't particularly like porridge.
For me, porridge was always one of those things which sound so much better than they taste. The porridge in Jonpanda and the story of Goldilocks and the Three Bears is just perfect for a wintry, dark evening. In contrast, the real thing is lumpy and cools rather quickly.
But recently, without even having picked up a copy of Jonpanda, I developed a huge lemming for some porridge. This is nothing to do with literary aspirations and everything to do with my decision to give up cereal (I wanted to cut down on milk, and then
this
was all over the news) Finally, last Sunday, I picked up the first box of porridge I found in
M&S
; a bright green box of banana porridge for kids. And I have had a bowl of porridge with water, a teaspoon of honey and some sliced fruit every morning since.
Now I think it's time to upgrade to some of the hardcore un-banana'd stuff. I just hope my love for porridge doesn't wear off again.